Due to the fast changing fashion trends and styles, this magazine is touted as a trendsetter that lifts
the image of veiled women without compromising the Shari'a. Hijabista understand hijabi and
educate them with modesty. At the end, they inspire young hijabi to be confident with their hijab.
Our hijab, our voice, our way of life.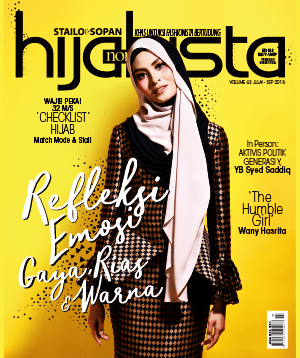 Category: Hijabi Fashion & Lifestyle
Language: Bahasa Malaysia
Target Audience: Female, 23-35 Years Old
Frequency: Quarterly (every 3 months)
No. of Pages: 132 pages
Cover Price: RM 10.00
Size : 22.8cm (W) x 27.3cm (H)
Circulation : 20,000 copies
Hijabista is the only Muslim magazine that features Muslim fashion and lifestyle guide. Muslim women are attentive to their appearances, owning their own charm in modern hijab.
New Breed Of Ummah
Average Unique Visitors: 1,091,339
Average Pages Viewed: 2,686,198
Monthly Total Social Media Audience: 1,023,712
Target Audience: 18-25 Years Old
Hashtag: #iamhijabi
Last update: 20/1/20
Touted as a trendsetter that lifts the image of new breed of Ummah. We talk about the latest fashion style, beauty and healthy lifestyle for hijabi. In the portal we also have hijab tutorial style and highlight story about "no turning back" special interviews with celebrities or renowned personalities.
Do you want to promote your product now ?