A magazine that relates closely to the lifestyle of modern Malay women with high aspirations. Features VIP and celebrity interviews as well as many strong women of substance who are well known in the community. Exudes exclusivity, the magazine showcases the latest fashions, and current trends that are household topics; making this magazine ideal for women who aspire to always look beautiful and modern.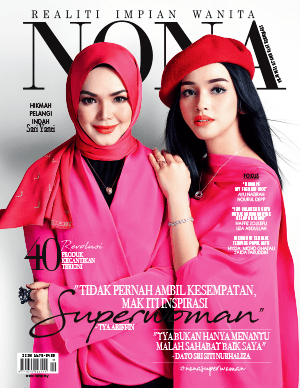 Category: Women's Lifestyle Magazine
Language: Bahasa Malaysia
Target Audience: Women's Lifestyle Magazine
Frequency: Monthly
No. of Pages: 212 pages
Cover Price: RM 9.50
Size : 22.9cm (W) x 29.8cm (H)
Circulation : 30,000 copies
Highlights of the Malaysian socialites day-to-day lavish & posh lifestyles. Magazine content addresses the exclusive lifestyles of "High-Ranking Datins"/The Royalties/ The Crumbs of the Society/ Business Women of Malaysia. We talk about intimate Beauty/ Shopping Events curated for corporate clientele. A vast & meaningful database & rapport amongst the Elites and etc.
The Alpha Women
Average Unique Visitors: 676,584
Average Pages Viewed: 1,567,613
Monthly Total Social Media Audience: 523,926
Target Audience: 25 – 45 Years Old
Hashtag: #nonasuperwoman
Last update: 20/1/20
Relates closely to the lifestyle of modern Malay women, VIP and celebrities with high aspiration. Engage to inspirational content beauty conscious.
Do you want to promote your product ?
For more information, contact our :