A complete parenting guide for young and new parents to nurture their children from newborn to children ages 6. Various topics addresses parenting concerns with topics ranging from pregnancy, birth, breastfeeding, infant care, growth and development of toddlers up to preschoolers. Also included are segments on fashion for mother and child, Q & A with experts and baby items shopping guide.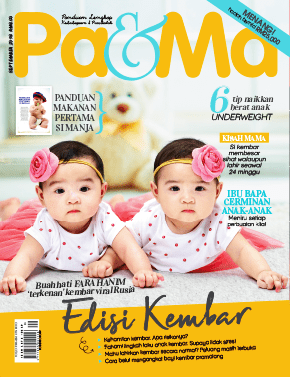 Category: Women's Magazine
Language: Bahasa Malaysia
Target Audience: Female, 25-50 Years Old
Frequency: Fortnightly on the 1st & 4th week
No. of Pages: 132 pages + 16 pages recipes booklet
Cover Price: RM 3.80
Size : 21cm (W) x 27.5cm (H)
Circulation : 60,000 copies
Reaching readers monthly, PA&MA being circulated across Malaysia. We educate on children development, we talk about children health and we care about parents too. Compact and concise guide for parenting.
The Millennial Moms
Average Unique Visitors: 1,159,602
Average Pages Viewed: 3,038,722
Monthly Total Social Media Audience:
Target Audience: 25 & above
Hashtag: #majalahpama
We will be there in your parenthood journey. No one understand parenting better than us. We are the brand that educate young parent and we talk about facts, the reality and inspiring stories of parents.
Kepentingan susu kepada kanak-kanak

Susu sangat penting untuk pertumbuhan dan perkembangan kanak-kanak. Mari ikuti informasi daripada Dr Roliza Ibrahim, Doktor Pakar Pediatrik daripada Hospital Pakar Avisena, Shah Alam, Selangor.

Posted by Pa&Ma on Ahad, 29 Julai 2018
TX Day: Tuesday
TX Time: 12:00-12:30 PM
Episodes: 39 episodes
Channel: Astro Prima & Maya HD
Genre: PA&MA Show
From print to digital and now PA&MA is one step ahead in reaching audience. We are now on tv with second season. PA&MA Show, every Tuesday on Astro Prima and Maya HD, features all topics about parenting and children development.
Do you want to promote your product ?