The brand is for the décor enthusiast. Impiana is a splurge of inspiration that provides hints of exclusivity for you to organize your home's interior decoration. This magazine is a platform for industry players to highlight trending furnitures, paints and colours, accessories, bedroom fittings, decorative fabrics for the home and other related items. Impiana is the brand that makes the best of your home.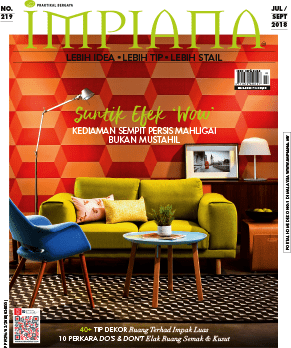 Category: Interior & Decoration Magazine
Language: Bahasa Malaysia
Target Audience: 29 – 40 Years Old
Frequency: Quarterly (every 3 months)
No. of Pages: 148 pages
Cover Price: RM 9.00
Size : 23cm (W) x 27.3cm (H)
Circulation : 20,000 copies
Home décor inspiration is not limited for the luxurious modern residences only. Impiana will turn your home into reality even on a strict budget. We also share useful information and beneficial tips.
Your Dream House
Average Unique Visitors: 376,126
Average Pages Viewed: 824,296
Monthly Total Social Media Audience: 564,785
Target Audience: 25 & above Years Old
Hashtag: #impianamy
Last update: 20/1/20
Impiana guides and educates readers with practical interior and exterior ideas. We talk about great décor, we inspire creativity and share décor ideas that everyone can apply.
EPISOD 9: Tip penyusunan perabot di dalam kediaman

Nak suai padan susunan perabot di dalam kediaman tak lah susuah jika ikut garis panduan yang betul Tak sempat untuk menonton rancangan tv IMPIANA siang tadi?Tak apa, siaran ulangannya pada jam 9.00 malam di Astro Prima #impianatv #majalahimpaian #dekorimpiana

Posted by Impiana on Monday, October 15, 2018
TX Day: Tuesday
TX Time: 12:30-1:00 PM
Episodes: 13 episodes
Channel: Astro Prima & Maya HD
Genre: Décor
From print to digital and now Impiana is one step ahead in reaching audience. We are now on tv. Impiana Décor Show, every Tuesday on Astro Prima and Maya HD, features all topics related with home décor.
Do you want to promote your product here ?