Invites sparks of cooking ideas as well as welcoming readers the idea of enjoying the fruits of labour with the entire family. Recipes are practical and easy to try, as it challenges your creativity in the kitchen. A useful directory for those involved in the culinary field, cakes and pastries and food processing.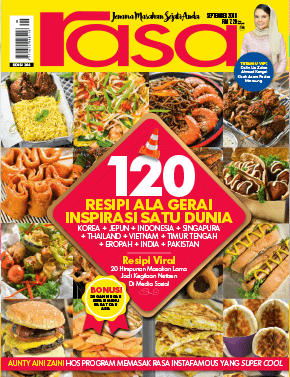 Category: Cooking & Foodie Lover Magazine
Language: Bahasa Malaysia
Target Audience: Female, Male 20 Years Old & Above
Frequency: Monthly
No. of Pages: 132 pages
Cover Price: RM 7.20
Size : 21cm (W) x 27.5cm (H)
Circulation : 45,000 copies
Offers over 100 recipes of modern, contemporary, traditional, western and eastern dishes in each issue. The magazine also include cooking tips, hot spots for food hunters, food reviews and cooking equipment
A Foodie Lover
Average Unique Visitors: 22,592,142
Average Pages Viewed: 8,490,785
Monthly Total Social Media Audience: 1,077,174
Target Audience: 18-45 Years Old
Hashtag: #rasashare
Last update: 20/1/20
On the digital platform, RASA engage varieties of recipe that make cooking as easy as 1,2,3. We also share real cooking experience and know what audience love.
FRITATA

Cara-cara buat Fritata. Lebih kurang macam telur dadar tapi lagi sedap & berkhasiat. Kalau anda masak macam ni, anak-anak yang tak makan sayur pun rasa nak cuba. Nak masak mudah sahaja. Bakar dalam oven suhu 180C hingga masak. Selamat mencuba!#majalahrasa #rasashare

Posted by Rasa on Friday, March 2, 2018
A Foodie Lover
Average Unique Visitors: 356,516
Average Pages Viewed: 951,646
Monthly Total Social Media Audience:
Target Audience: 18-45
Hashtag: #rasashare
From print to digital and now RASA is one step ahead in reaching its audience. We are now on tv. RASA Cooking Program, every Monday on Astro Prima and Maya HD, features topics and recipes by instafamous.
Do you want to promote your product ?