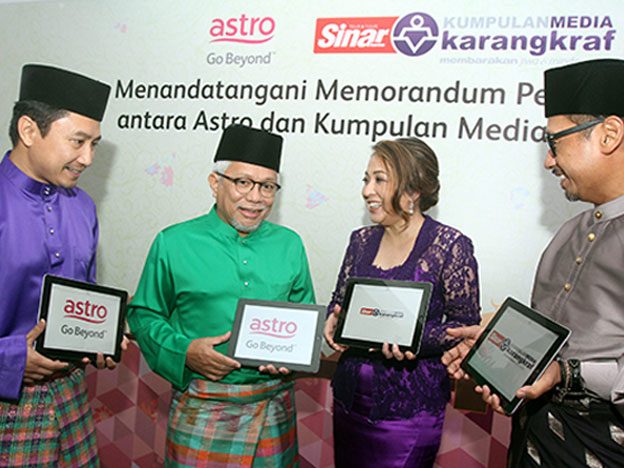 (Left to right): Syamil Fahim Mohd Fahim – Deputy CEO of  Kumpulan Media Karangkraf, Dato' Hussamuddin Hj Yaacub – CEO of Kumpulan Media Karangkraf,  Dato Rohana Rozhan – Group CEO of Astro, Dato' Khairul Anwar Salleh – VP of Malay Business
Astro Blaze expands to include Karangkraf IPs in drive to create largest Malay digital content network Blaze Digital, Astro's digital marketing arm who has partnered with Kumpulan Media Karangkraf Sdn Bhd (pictured above) to create Malaysia's largest Malay digital content network, has added 15 of Karangkraf's popular brands like Pa&Ma, Remaja, Mingguan Wanita, Media Hiburan and Sinar Harian's news site to its offering.
Following the completion of Astro's JV Co with Karangkraf, the newly formed unit Nu Ideaktiv, for the creation and monetisation of content verticals in Malaysia and the Nusantara region (the Indonesian archipelago).
The content industry in the Nusantara region command a total addressable market of RM48 billion, which makes local vernacular and ASEAN content IPs the new premium. Syamil Fahim, CEO of Nu Ideaktiv, says, "We are excited about our partnership with Astro, specifically about our collective impact in the digital advertising space. Our titles cover every life stage of the Malay community and our successful track record over the last 40 years proves that. The rich source of audience data combined with experts in the field of branded content make for powerful marketing solutions that cut across Print, Radio, TV and Digital."
TH Chong (pictured below), Group Director of Astro Media Sales added, "With a strong presence amongst the Malay speaking community, Karangkraf is a solid partner as together we will leverage on each other's strengths to introduce new and innovative digital content that appeals to the mass Malay market in Malaysia. The evolution of digital media consumption, paid or ads-supported, has expanded Astro's addressable audience base considerably, from households to individuals. This partnership will further strengthen our leadership in the online space among Malay audiences."
One year on, Blaze has rapidly grown its partner network from 32 to 50 digital brands, increasing its reach to 32 million users* on web and 62.4 million fans* on social media platforms. Covering the whole range of audiences in Malaysia, including digital properties in Bahasa Malaysia, Chinese, English and Tamil, Blaze allows advertisers to deploy a range of advertising solutions via branded content, videos, social marketing, data-backed programmatic ads, display, as well as bespoke campaigns.
The Blaze Digital team comprises highly experienced creative directors, producers and digital marketing experts and has the distinction of being able to originate its own content resulting in its having won several awards, the latest being LITE's Steve & Shaz's Hoarders video at D'Awards for the 'Best Use of Social Media'.
Today, Astro is in 75% of Malaysian households, serving 23 million individuals on all screens, at home, live, on the go and on demand while Karangkraf has 15 million readers across its newspaper and magazine publications and online media assets. In Q4FY18, Astro's total Adex registered a 2% growth y-o-y from RM705mn to RM722mn and this includes Digital Adex which grew 17% from RM30mn to RM35mn. This leads to a share of 44% and 74% in TV Adex and Radex respectively. This trajectory is expected to continue with focussed efforts on providing solutions to both agencies and advertisers alike, driven increasingly by customer persona data.
* Google Analytics (Monthly Average Dec 2017-Feb 2018)
* Facebook, Twitter, Instagram, Youtube and Twitter
Source: Marketing Magazine